"Build your inner environment. Practice silence!...I remember the wonderful discipline of the Great Ones. When we used to talk and chatter, they would say: 'Go back into your inner castle.'...It was very hard to comprehend then, but now I understand the way of peace that we were shown." — Sri Sri Paramahansa Yogananda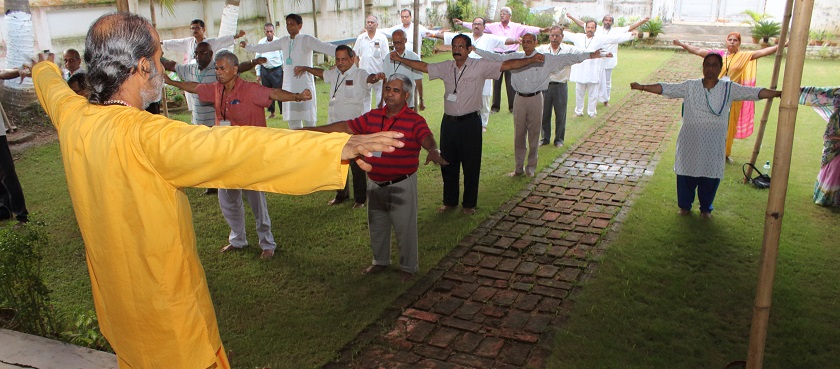 YSS sannyasis conduct retreats at Puri Kendra twice every year. Retreat offers an opportunity for earnest seekers of Truth to withdraw from the outer world, and the demands of everyday living, so that they may sit still and dive deep in meditation, communing in silence with the Blissful Spirit within. This rejuvenates body, mind, and soul.
Three big dormitory style rooms are available for the devotees on sharing basis. Devotees may also book their individual/group stay at the Kendra whenever a group activity is not in progress.
While staying at the Kendra, devotees may participate in the spiritual activities of the Kendra or go for a pilgrimage to various holy places in and around Puri. Up to sixteen people can be accommodated in the three rooms at a time.
The Kendra premises include a small kitchen and an adjoining dining area where meals and tea are served by Kendra staff to the visiting devotees. Devotees may also make use of a small library which includes all YSS publications.
The volunteers at the Kendra can help and guide the devotees in visiting various spiritual places in and around Puri.
For requesting accommodation, please contact Puri Kendra at below mentioned details. All reservation requests are subject to availability of the rooms and other resources.
Phone: (0675) 2233272, 09778373452, 09668544380
Email: [email protected]