Yogoda Satsanga Dhyana Mandali – Cuttack
C/o Sri Radhika Prasad Nanda
"Prabhukrupa", Oriya Bazar
CUTTACK – 753001
Dist. Cuttack, Odisha
Phone: (0671) 2516393, 2300100,
09938810089, 09937046648
Email: [email protected]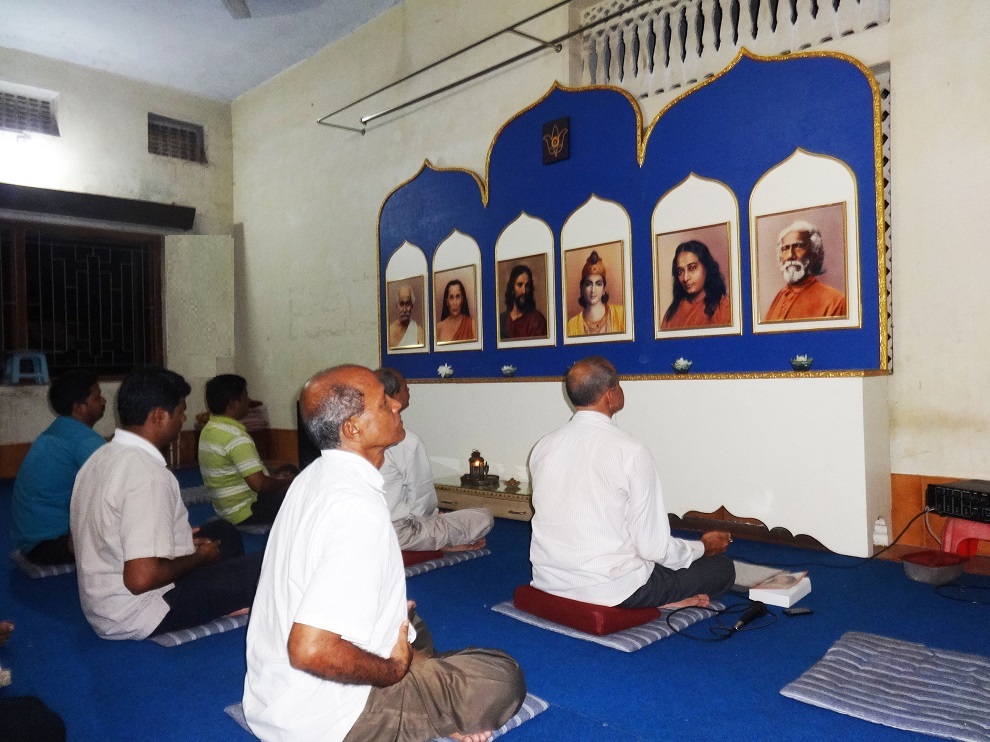 The history of the Cuttack Dhyana Mandali dates back to the year 1990, when a few devotees started gathering for group meditations on every Sunday at the residence of Shri Rabi Narayan Dash in Tulsipur, Cuttack. Subsequently the location for the meditations was shifted to "Srabani", a residence of Late Sri Biju Pattnaik in Tulsipur. From 1995 onwards, the devotees moved to a more spacious place, the first floor of Veda Bhavan at Tulsipur, where the Cuttack Dhyana Mandali is continuing its operations till today.
The group meditations are being conducted on the first floor of the Veda Bhavan on every Sunday from 5 pm to 7 pm. In addition, the Cuttack Dhyana Mandali organizes spiritual group retreats and public satsanga every alternate year, conducted by the YSS sannyasis. Please contact the Cuttack Mandali for more information about any upcoming programmes in the area.
The Cuttack Dhyana Mandali also conducts a few charitable activities locally. It is involved in distributing "Braille books", shawls, chadar and stainless steel containers to physically challenged school children. The Mandali also provides customized footwear for leprosy home inmates. Recently, the Mandali constructed a small three-room asbestos roof building for the leprosy affected inmates of Nehru Palli at Cuttack.
Meditation Timing:
Every Sunday: 5 pm to 7 pm
How to Reach:
Yogoda Satsanga Dhyana Mandali Cuttack is located on the banks of river Mahanadi at Madhusudan Nagar, Deer park, Cuttack.
The closest landmarks are:
1. Deer Park
2. Cantonment Police Station.
Cuttack Dhyana Mandali is located in between Cantonment police station and Divine life society/ Sivananda Community Hall.
'Cuttack' is the nearest railway station at a distance of 5 Kms from the Mandali. Goverment approved prepaid auto-rickshaw is available from the Railway Station.
The nearest bus stand is Badambadi bus stand, about 5 Kms from the Mandali. Goverment approved prepaid auto services are also available from this bus stand to various locations in the city.
In case the auto drivers are not familiar with the location of Cuttack mandali, please mention "Barabati Cricket Stadium" as a landmark from where it is easy to navigate to the Deer Park, or the Cantonment Police Station by enquiry with the local people.
The nearest airport is Biju Pattanaik International Airport located at a distance of 27 Kms in Bhubaneswar. Dedicated taxi counters are continuously operational at the Airport. "Uber" and many reputed taxi service providers offer round the clock transfer to and from the airport. From Bhubaneswar Railway station, which is at a distance of 2.5 Kms from the airport, public transport is available for Badambadi Bus Stand.